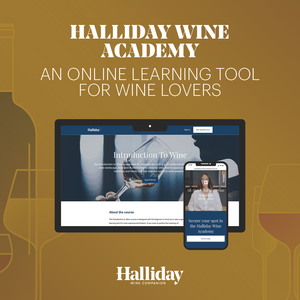 Our Introduction to Wine course aims to empower students with a good understanding of the Australian wine landscape, how wine is made, how to describe wine, how to approach food and wine matching and handy tips that address common wine questions.
The Introduction to Wine course is designed with the beginner in mind, but is also a great learning tool for more experienced drinkers. 
It's broken up into eight modules, each focusing on a single, broad topic. 
Completing the course offers more confidence navigating a wine list or bottle shop, describing wine, judging quality and perhaps even investing in a few special bottles for the cellar. 
The course is a combination of written notes and videos produced and presented by our team of experts at Halliday Wine Companion. 
Once you complete each of the eight modules, you'll be asked to answer a short quiz testing your knowledge on what you have just learned before you move onto the next module. 
Upon completion of all the modules, you become a Halliday Wine Academy graduate and receive a certificate showcasing your new-found wine skills.
Elevate a loved one's wine knowledge and enrol them in the Halliday Wine Academy.