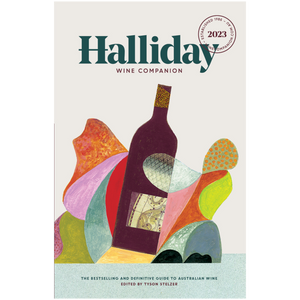 When you think of Australian wine, you think of James Halliday. For almost 40 years, the legendary winemaker and critic has been the most trusted name in the industry, and his celebrated Halliday Wine Companion is the final word in what to drink now.
 
This bestselling annual sets the benchmark for winemakers, collectors and wine lovers alike. The 2023 edition has been revised and updated with over 760 pages. Featuring all new scores, notes, wineries and the lastest information on 'exceptional', 'outstanding' and 'highly recommended' wines.
 
Inside, a team of Halliday expert share their extensive knowledge of wine with over 5000 tasting notes offering advice on great value wines, as well as key wine regions, wineries and winemakers, vineyard sizes, opening times and contact details.

The Halliday Wine Companion 2023 is quite simply the essential guide for drinkers of Australian wine, or a perfect gift for the wine lover in your life.

Copies of the Halliday Wine Companion can be purchased via our affiliate, Booktopia. Prices are subject to change.